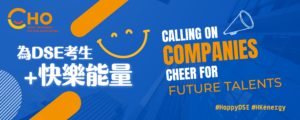 Due to the severe epidemic situation in Hong Kong, the Diploma of
Secondary Education Examination (DSE) will be shortened from one month
to three weeks. This year, there are about 40,000 candidates in total.
Under the unstable social environment, they are required to take four
core subjects in just four days. Our next generations really need
different support from all walks of life to add happy energy to them
and feel the care of society for them on the way forwards.

As an organization that promotes happiness culture in Hong Kong, the
Chief Happiness Officer Association will launch the "Happy DSE, Hong
Kong Energy" Campaign ,calling on enterprises to provide considerate
support for the current DSE candidates in Hong Kong and cheer them on!
The association will meanwhile distribute collected resources through
online channels and selected locations to individual candidates.

Join the event and share the positive energy of happiness. We
sincerely invite your company to support the organization "Happy DSE,
Hong Kong Energy" to provide the following support (in any form,
suggestions are welcome):

* Provide free anti-epidemic medical supplies (high-protection
masks, rapid antigen test kits etc.)
* Provide free daily support for candidates (free or discount on
transportation, meals and basic needs, etc.)
* Call on celebrities, KOLs, sports athletes, etc. to create simple
30-second cheering videos for DSE candidates
* Provide online and offline media channels, increase the exposure of
activities, and increase the attention of all walks of life
* The company calls for a four-day work-from-home / flexible work
arrangement, so that candidates can travel with peace of mind and
achieve good results.
* Others (forms are not limited, suggestions are welcome)

We are eagerly looking forward to gathering the strength of Hong Kong
enterprises to cheer for the 40,000 DSE candidates, wish them good
results and shine on the dream stage. The Association will issue a
press release on the event on 4th April 2022. Please kindly fill in
the following reply form before 1st April, 2022 and email to
info@choassociation.org with your company logo so that we can print
your support on the press release. You are also welcome to WhatsApp to
Ms. Mary Suen @9608 8888 to discuss related matters.