【FREE REGISTRATION】CHO Forum Series: Future of Happiness at the Workplace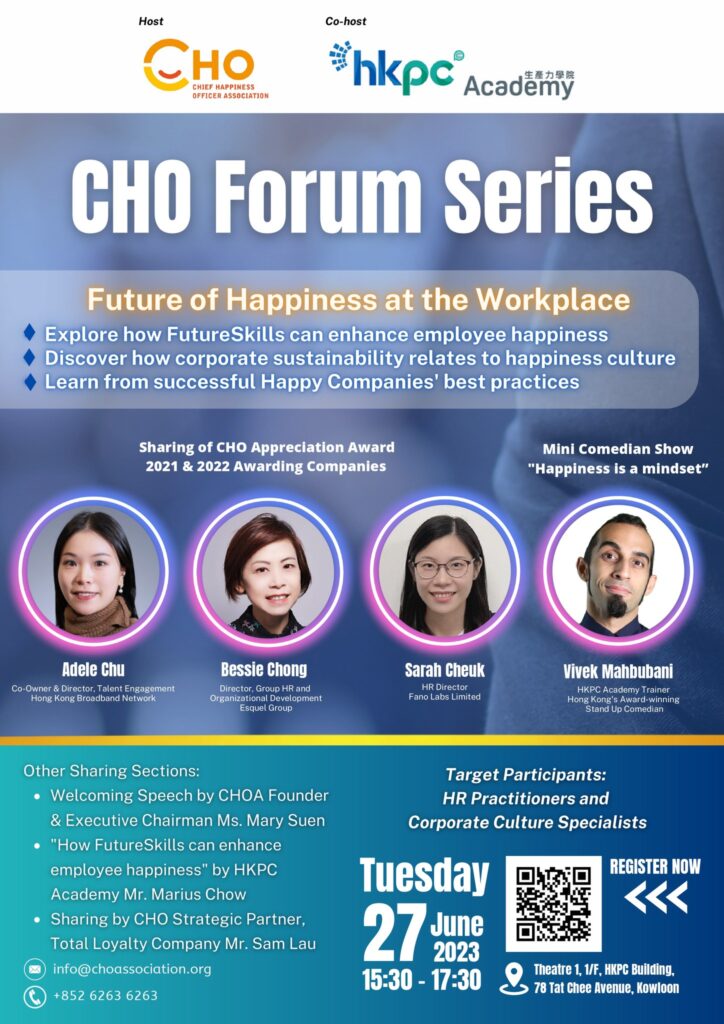 Are you facing challenges in adapting to the changing needs and expectations of the modern workforce? Find out how creating a happy and inclusive workplace culture can help you stay competitive and attract the best talent!
Registration: https://forms.gle/WRLK3dcn6V81hrPj8
Sharing of CHO Appreciation Award 2021 & 2022 Awarding Companies

Mini Comedian Show "Happiness is a mindset" by HKPC Academy Vivek Mahbubani

Welcoming Speech by CHOA Founder & Executive Chairman Ms. Mary Suen

"How FutureSkills can enhance employee employee happiness" by HKPC Academy Mr. Marius Chow

Sharing by CHO Strategic Partner, Total Loyalty Company by Mr. Sam Lau
Chief Happiness Officers Association is delighted to introduce CHO Forum Series: "Future of Happiness at the Workplace" for people who are interested in getting to know the new trend of the happiness culture in the workplace, and understanding how happiness inspires productivity and co-creates sustainable business development.
Date: 27 June 2023 (Tuesday)
Duration: 15:30 -17:30
Venue: Theatre 1, 1/F, HKPC Building, 78 Tat Chee Ave, Kowloon
Target Participants: HR Practitioners & Corporate Culture Specialists
Objective:

Explore how FutureSkills can enhance employee happiness

Discover how corporate sustainability relates to happiness culture

Learn from successful Happy Companies' best practices
Don't miss out on this valuable opportunity to learn and connect with happy companies in HK. We look forward to seeing you at the event.
If you have any questions or concerns, please don't hesitate to reach out to us at 6263 6263