CHO Review is a series of interviews with some renowned corporations conducted by CHOA and The Hang Seng University of Hong Kong. Interviews include international and local enterprises managements, they share how their interpretation on the corporate happiness culture and how to bring happiness and positive energy to their employees through different management approaches, thus improving employees' values and engagement.
In addition to the management level, we also invite colleagues from different levels to share their experience on the corporate happiness culture, so that we have a better understanding on how CHO culture beneficial to their teams.
This year, our theme is "The Future of Work". We present some remarkable practices which advocates the promotion of Corporate Culture Transformation in order to advance with our future talents.
TOP 10 HAPPIEST COMPANY TO WORK FOR AWARD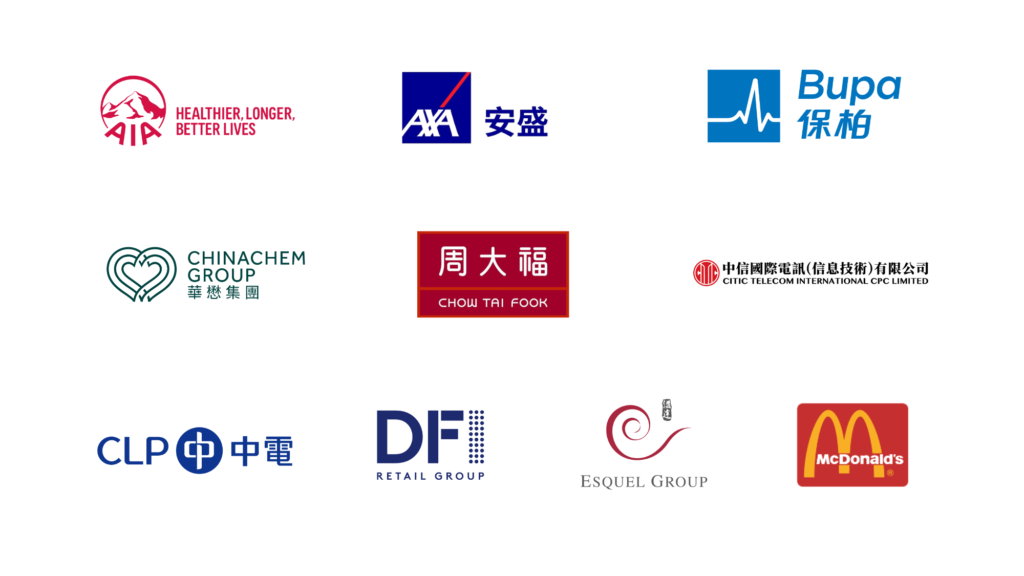 THE MOST HAPPIEST SME TO WORK FOR AWARD
1. Ask IT Limited: Work hard, play harder!
The association has started the 2022 Chief Happiness Officer Case Study (CHO Review) interview filming. The team visited Ask IT Limited, the winning company of THE MOST HAPPIEST SME TO WORK FOR AWARD. Mr. Murphy Lai, the company's director talked about their culture of sharing happiness, encourage colleagues to work hard, play harder!
2. AXA establishes a happy workplace culture to enhance employee satisfaction
AXA Hong Kong and Macau ("AXA") have been offering a wide range of life, health, property, and casualty protection, as well as wealth management and retirement solutions to help customers achieve stability and prosperity. With a strong conviction that both job satisfaction and employee well-being are equally important in attracting and retaining our human capital, AXA therefore places a top priority on employee wellness and champions it by organising different online and offline campaigns and bringing employees to enjoy a sense of fulfillment by making a strong positive impact on society.
3. Bupa's new office offers employees flexible work options.
Last August, Bupa moved into its new office at The Quayside, equipped with ergonomic furniture, collaborative workspaces and human-centered lighting. There is even a wellness studio for different wellness  activities, such as yoga classes and stretching sessions. Bupa hopes to ensure that the office is a great place to work, and employees can choose their way of working, depending on the nature of their work and the culture of the team.
4.Chinachem Group Launches Digital Transformation to Build Ideal Workplace for Employees
To facilitate flexible working, Chinachem Group has upgraded its technology with a stable, faster, and safer network backbone and wireless connection that improve work mobility and efficiency, as well as mitigate risk levels. This enables staff members of Chinachem Group to work anywhere. Digitalization and deployment of electronic systems enhance the efficiency of intra- and inter-departmental work processes. To keep employees informed of company updates and proactively listen to them, various staff meetings, including All Staff Town Hall and Divisional Town Hall, are organized throughout the year. To foster communication and staff engagement, staff members are also encouraged to chat with the CEO about their feedback, concerns, and recommendations by participating in the monthly "Chit-Chat with CEO" open and private sessions. In addition, the group provides free lunch and healthy snacks, as well as a variety of social spaces and entertainment facilities in the office space to allow employees to relax and increase teamwork. The new office space embodies the people-oriented and health-oriented philosophy, with multiple social spaces, healthy snacks, and entertainment facilities such as table football, snooker area,   and gaming areas, allowing employees to relax during work.
5. Chow Tai Fook Jewellery Group
Chow Tai Fook Jewellery Group has been committed to cultivating a caring culture which includes giving back to the community, integrating diversity physical and mental health, and family friendliness considerations while also having a positive and sustainable impact on society. This year, Chow Tai Fook Jewellery Group was awarded the 2022 Chief Happiness Officer Association's 'Top 10 Happiest Company to Work For Award'. This award commends the performance of companies that foster a healthy and happy corporate culture and promote inclusivity for employees from all walks of life in Hong Kong. Our company will continue to cultivate a caring culture for our employees and the local community to thrive together. Meanwhile, the 'Do Good Appreciation Award' was presented to Chow Tai Fook Jewellery Group. This award is to recognize the company for initiating outstanding employee engagement and experience, as well as its continuous efforts and commitment to create positive and sustainable impact for employees, enterprises, and society.
6. CITIC Telecom International CPC Limited empowers employees to innovate ideas
CITIC Telecom International CPC Limited empowers the digital society, promotes corporate values of constant innovation, strives to create a happy and safe working environment, and actively contributes to society. The company provides employees with diversified training equipped with advanced technology to encourage employees to jump out of the inherent field, stimulate their inner potential, and pay more attention to their physical and mental development This year, CITIC Telecom International CPC CITIC Telecom won the 2022 Chief Happiness Officer Top 10 Happiest Company to Work For Award. This award is to commend the outstanding performance of enterprises in building a corporate culture of happiness and health and showcasing their unique success stories and becoming a model for all walks of life in Hong Kong. CITIC TelecomCPC expects that in the future, it will continue to actively learn from the industry, use technology to improve work efficiency and promote communication; at the same time, it will also be "people-oriented" and consider their staff to be their most valuable assets, continue to organise activities and diverse development training, and create a happy working environment.
7. DFI Retail Group involves employees in decision-making and strives for work breakthroughs.
Our Founder and Executive Chairman, Ms. Mary Suen, has interviewed Ms. Patricia, the Group Resourcing and Team Engagement Director at DFI Retail Group to share her insight on people transformation strategies in regards to both workplace happiness and the future of work.
8. A Culture of Appreciation at Fano Labs
The first CHO Review 2023 has been released! CHOA team visited Fano Labs, the winning company of THE MOST HAPPIEST SME TO WORK FOR AWARD. The company's founder and CEO Dr. Miles Wen and Human Resources Director, Ms. Sarah Cheuk, shared the practical experience of promoting a culture of gratitude within the company, boosting morale through modern management, and establishing a happy corporate culture. They also mentioned the business model of sharing profits with employees.
9. Esquel Group offers 24-hour hotline counseling to support employees' mental health
Esquel Group adheres to actualizing our mission of "fun people serving happy customers" proactively. The Group believes maintaining a healthy workforce is essential to attracting, retaining, and developing talent. Therefore, the holistic approach to wellness prioritizes physical and mental health, which includes fostering a sense of belonging, respect, and community among employees. Esquel Group firmly believes that employees are the most important assets of the company, and the physical and mental health of employees directly affects the performance of the company. Success of the company depends on its happy employees, who are more devoted to work and can perform more efficiently. In addition to providing a safe working environment, reasonable remuneration, and benefits, Esquel Group also organizes activities to focus on the physical and mental health of its employees. It also allocates resources to hold different courses, so that employees have opportunities for self-improvement and self-realization. 
10. McDonald's promotes a culture of appreciation to create a happy work environment.
Employees are McDonald's Hong Kong's most valuable asset, and our development focus. We are committed to nurturing talent and creating a happy workplace where employees can grow and thrive.
McDonald's has always believed that delivering happiness is an important part of the business because we believe in "Happy employees, happy customers". Committed to putting its people first, McDonald's offers a wide array of measures and policies that center around employee happiness. These include comprehensive training and development, attractive salary and benefits, and inclusive policies that cater to the needs of McDonald's highly diverse talent pipeline. With such people focused policies, our employees feel the support of the company at all levels.