【foodpanda HK delivers care packages to homeless】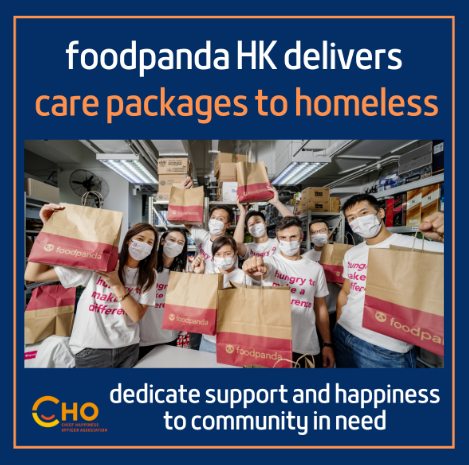 As the pandemic situation in Hong Kong shows signs of rebounding and the unemployment rate remains high, many Hong Kongers have unfortunately become homeless in the absence of support. foodpanda Hong Kong recently announced its second partnership with ImpactHK to support the community by donating goods to those in need, including bottled water, dried fruit, biscuits, energy bars, packaged bread, toothbrush and toothpaste, medical tape, hand sanitiser and so on. Through this partnership, foodpanda is determined to dedicate more support and bring a feeling of happiness and warmth to the homeless community in Hong Kong.

foodpanda Hong Kong will provide 50 sets of basic necessities monthly. These care packages will be distributed to the homeless by foodpanda staff as well as volunteers from ImpactHK. Over the past 2 years, foodpanda has invested over 10 million Hong Kong dollars towards launching different initiatives to support stakeholders and communities in need, including giving away food vouchers to charities and those less fortunate, distributing RAT kits and hygiene supplies to the delivery fleet, and waiving certain fees for restaurant partners, etc.

If you have any stories relevant to happy corporate culture, you are welcome to email us at info@choassociation.org, and you can contact the association colleagues via WhatsApp: +82 6263 6263.